All memberships include access to a members-only online community, where we organize our work and hold discussions. Just about everything we do here gets a parallel space there—every committee, every project team, and every live event. We use a service called Basecamp to host our community, because it excelled both at creating a collaborative workspace that wasn't horribly technical, but also discussion areas where people could mingle without having it feel like work.
Each discussion space looks something like this (this example doesn't have anything in it yet):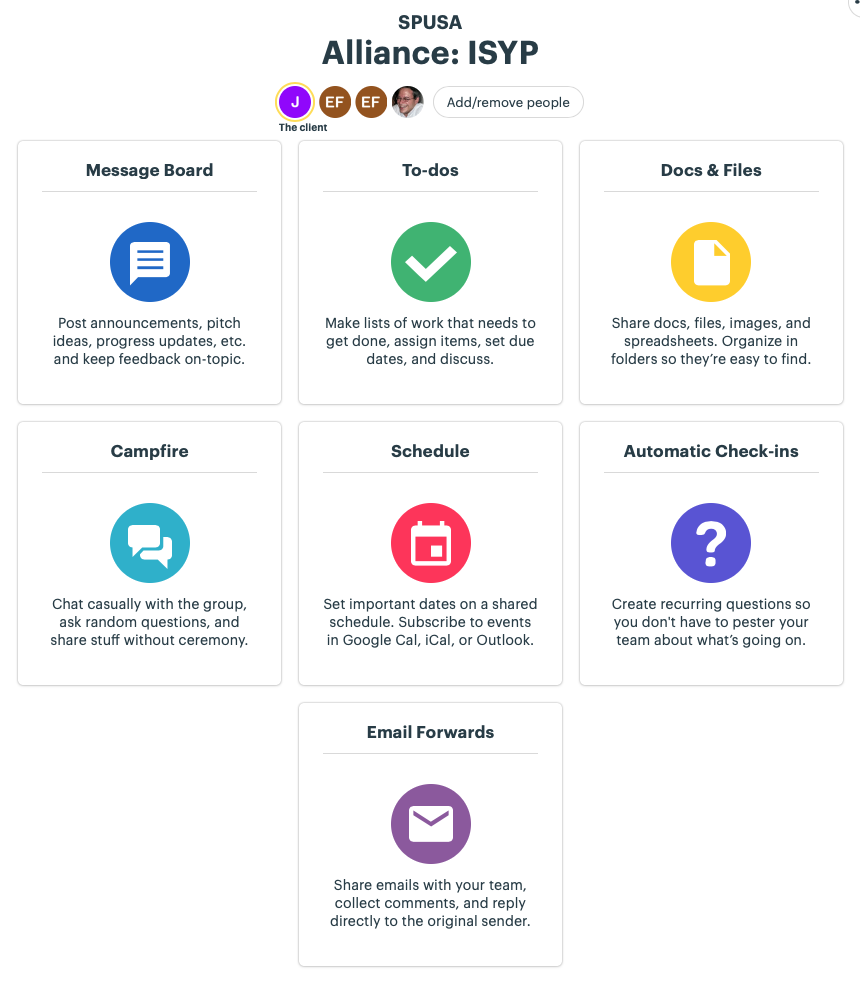 At the top, you'll see that this is the space for our Alliance with International Student/Young Pugwash. The members of the space are listed below thu title. Some discussions and project teams are open to all members, others are closed and require an application to the team leaders or discussion moderators. Every space has a dedicated message board and live chat, a schedule of events specific to the group, and a library of shared documents. Spaces that are geared for collaborative work also have to-do lists that can be assigned to members, automatic polling of all members to find out how their work is proceeding, and an email inbox that allows group members to forward emails into a team archive.
We also create spaces for informal groups of members. Let's say you're in an event discussion and some of you want to hold a separate discussion that comes out of that meeting; just drop us a line and we'll create a space for you.
The collaboration space also allows for private messaging between anyone on the site, a notification system to keep you up to date on the groups you're following, and various methods of getting alerted by email or using Basecamp mobile apps. 
We want our community to become a central hub for Pugwash activity everywhere, giving our members chances to interact in ways they wouldn't otherwise. This community was recently launched, so we'll be adding features and documentation as quickly as we can. If you have any questions or want to let us know how we're doing, get in touch.